The Met Gala 2023 has come and gone, leaving behind a trail of unforgettable fashion moments. This year's theme, "Karl Lagerfeld: A Line of Beauty," inspired designers and celebrities to create looks in honour of Karl. This year's Met was about celebrating the Legend Karl Lagerfeld and our celebrities just did that; wearing outfits from his own creation or wearing something that nods perfectly to his life's creation. As we look back at the event, it's clear that the Met Gala continues to be a platform for creativity and innovation in the fashion industry. Below, we round up all the jaw-dropping looks from this year's Met Gala.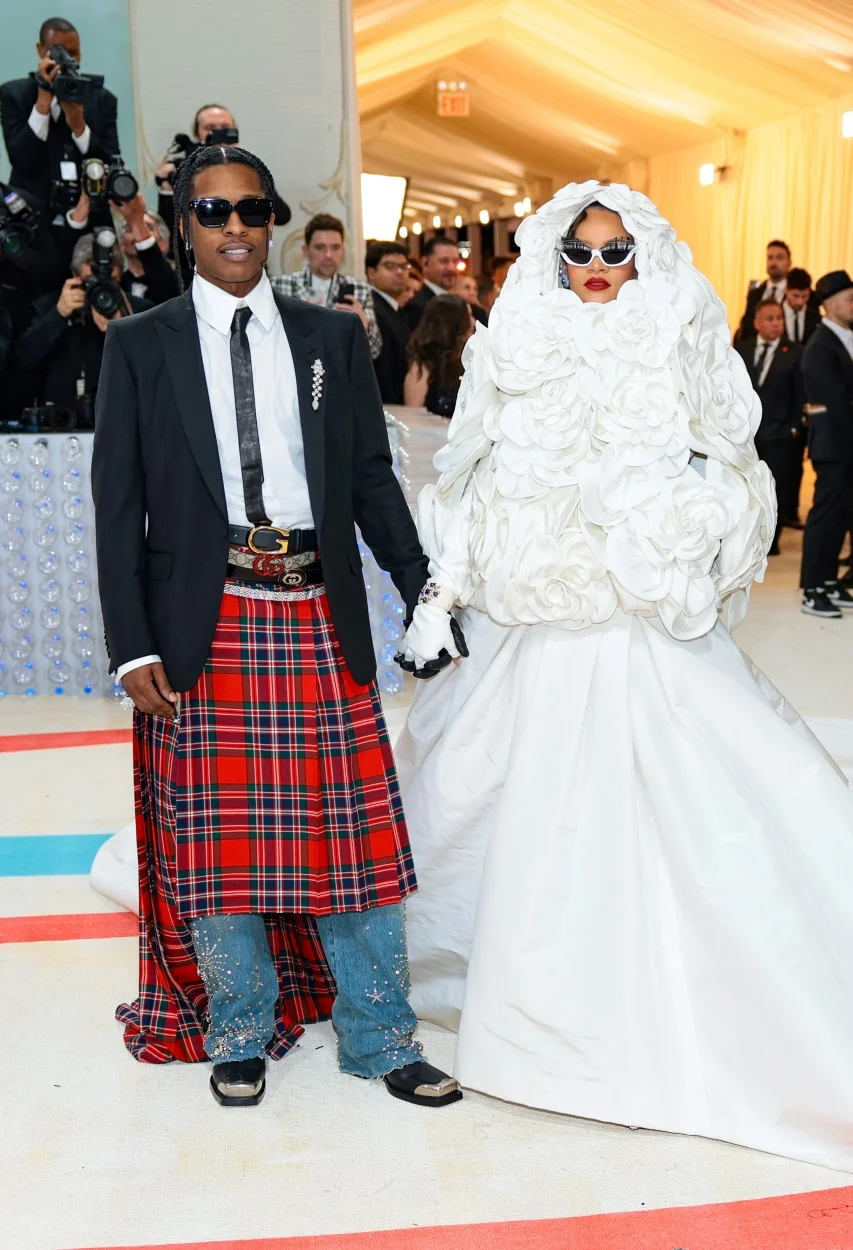 Yes, she has lashes on her sunglasses, and while it does make us think of the time when all the gworls had lashes on their headlights, it is undoubtedly iconic. 
Rihanna embodied the spirit of the Chanel brides who closed Lagerfeld's couture shows with her white custom Valentino gown and white flowery hooded coat.
Doja Cat … an actual cat. An iconic tribute to Karl Lagerfeld's cat Choupette. Doja's silver Oscar De La Renta dress was complete with a cat ears hood and cat nose prosthetics. We've come to expect out-there creative looks from Doja, given her last couple of rounds at fashion week.
Only the artist meowing, talk about commitment to character, was said during her red-carpet interview with Emma Chamberlain.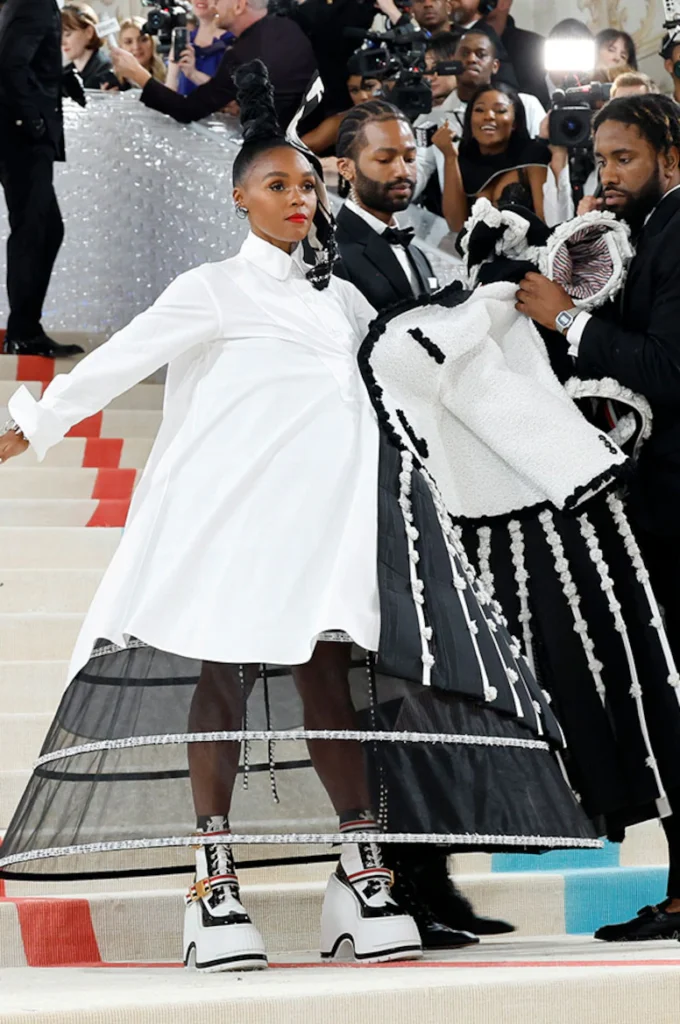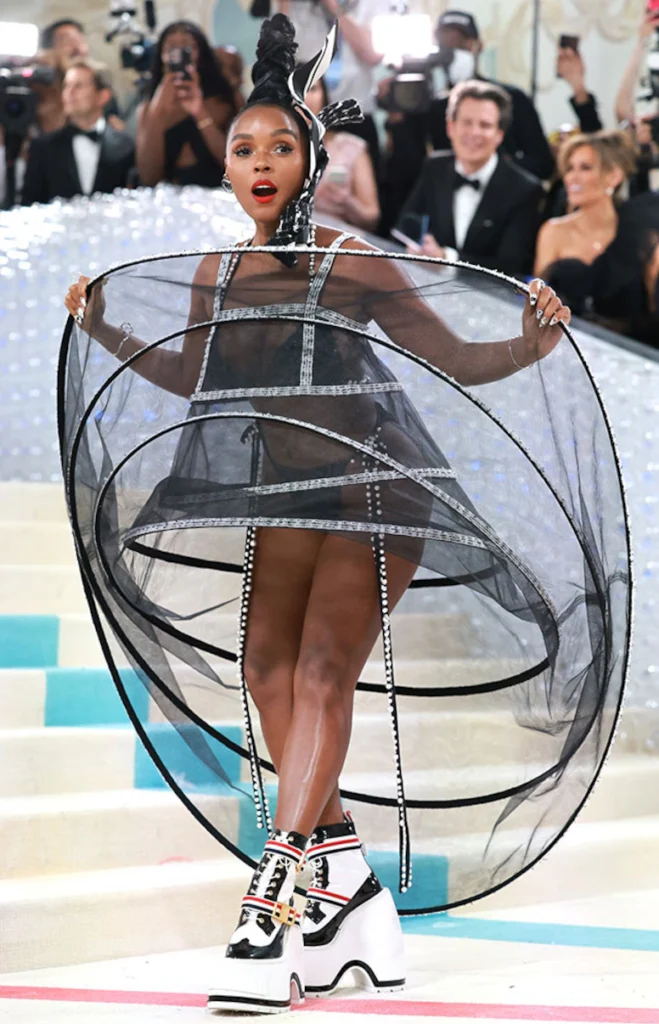 Monaé arrived on the red carpet boldly in an oversized half-black, half-white Chanel-inspired tweed Thom Browne tuxedo suit with mismatched patterns and ornate embellishments. She accessorized with a white leather quilted cat bag, an honour to Lagerfeld's pet, Choupette.

She later removed the exaggerated jacket to reveal a black bikini underneath.
Co-chair Michaela Coel went all out with her sheer custom Schiaparelli dress that used strategically placed embellishments to stop it from being completely naked.
The Ghanaian-British-born actress' stunning gold thread webbing which extends from the nape of her neck up over her cornrows; is a first. 
The blue-black lip of Adut is so matte, so flawlessly lined, and so. When combined with that bob, there are just clean lines everywhere, which is truly refreshing.
In this Gucci halter neck gown, Halle Bailey not only nailed the see-through trend, but the iridescent sequins and her floofy cape are giving us major mermaid-core vibes.
Jared Leto arrived in a full cat costume in honour of Karl Lagerfeld's feline muse, Choupette. Leto's look comfortably overshadowed acres of pearl-encrusted gowns at the Met's annual fundraiser.
Anok Yai, a model, arrived wearing a dazzling pannier dress by Prabal Gurung and a seductive mask.
Actor Brian Tyree Henry layered pearls with his regal ensemble, designed by label Karl Lagerfeld.
10.
Gabrielle Union and Dwyane Wade
Gabrielle wore a monochromatic red look, complete with an ankle-length leather duster. Dwyane, meanwhile, made sure to match his wife perfectly, donning a matching black leather ensemble that featured a sleeveless vest giving The Matrix vibes. Both costumes are from Prada.
Pop star Dua Lipa, a co-chair, wore a white tweed Chanel fall/winter 1992 bride couture gown designed by Lagerfeld. She paired the look with a 100-carat rock of a diamond necklace. And if that isn't enough, the dress has "POCKETS".
11.

Yung Miami and Sean "Diddy" 
Caresha "Yung Miami" Brownlee, of the City Girls, graced the red carpet serving body and beauty with panache in a sheer gown with a long train and pearl embellishments. The top of the dress had an oyster-like shape that perfectly captured the rapper's stunning beauty. Diddy represented his clothing brand by rocking an elaborate Sean John ensemble with black sunglasses and gloves – a fashion nod to Karl Lagerfeld.
Overall, the Met Gala 2023 was a celebration of fashion and creativity, showcasing the best and most innovative looks from designers and celebrities alike. As we look forward to next year's event, we can't wait to see what new themes and fashion moments will be created. The Met Gala continues to be a platform for fashion and art to collide, inspiring us all to think outside of the box and push the boundaries of what is possible.