Are you ready to stride into your workplace with confidence, flaunting those chic heels? We've all been there, wanting to look our best and feel empowered in high heels at work. However, the journey to heel confidence starts with comfort. In this article, we'll delve into the art of wearing heels at work while prioritizing both comfort and confidence. From choosing the right shoe size to perfecting your walking technique, we've got you covered with invaluable tips and insights. So, let's step into the world of heels and discover how to make them your allies in conquering the corporate landscape.
Choosing the Right Shoe Size
The foundation of comfort in **heels** begins with selecting the right shoe size. Ill-fitting heels can quickly turn your workday into a nightmare. Ensure your heels fit snugly but not too tight, leaving room for your toes to move comfortably. When your feet have enough breathing space, you'll be better equipped to stand tall and exude confidence.  Try these tips when getting new heels next time:
Have your feet measured or try them on before purchase. While you may think you know your shoe size, it can change over time.
Buy shoes at the end of the day. Your feet naturally swell as the day goes on; do your shoe shopping later in the day preferably in the evening to ensure your heels fit after hours of wear.
Opt for Comfort Brands
Comfortable heels for women are not an urban legend. Many brands prioritize both style and comfort in their designs. Look for reputable labels known for their cushioned insoles, arch support, and ergonomic designs. These features are essential for all-day wear, allowing you to maintain your poise from the morning meeting to the after-hours networking event.
Lower the Heel Height
While high heels can make a bold statement, consider opting for a lower heel height for work. Lower heels are more comfortable for extended periods of standing and walking. You can still find stylish options with two to three-inch heels that exude professionalism and confidence.
Choose the Right Shoe Style
Different work environments call for different styles of heels. Closed-toe pumps are a classic choice for formal offices, while peep-toe or open-toe heels can be suitable for a more relaxed setting. Block heels with their chunky design provides great support and stability, for reduced pressure and more comfort, check out platform heels, and there is the sculpted or flared heels which aren't just eye-catching; they provide more stability. Choose a style that complements your outfit and office culture, ensuring you feel both comfortable and confident.
Breaking in Your Heels
One of the oldest techniques for making heels comfortable is breaking them in. Wearing your heels with socks around the house a few times will help them stretch and adapt to the shape of your foot.
Using Products to Prevent Foot Pain
Foot pain can be a real downer when you're aiming for confidence at work. Invest in products like gel inserts or padded insoles to provide extra cushioning and support for your feet. These small additions can make a world of difference in your comfort level.
Perfecting Your Walking Technique
Confidence in heels starts with the way you walk. Practice your stride and posture to ensure you maintain balance and grace. A confident walk not only feels great but also leaves a lasting impression.
Here are some tips to help you feel more comfortable.
Keep your legs steady to keep your ankles from rolling and to avoid putting too much weight on the balls of your feet.
Remember to work out your abs. Your core is responsible for keeping your body balanced.
Use your hips to propel yourself forward, creating a bounce rather than a slide.
Stand tall and let your inner confidence come through. You'll have improved balance and look fantastic.
Invest in High-Quality Shoes
Consider your heels an investment in both your professional image and your comfort. High-quality shoes are made to last and are often crafted with superior materials. Investing in a good pair of heels can prevent the discomfort associated with cheap, poorly made shoes.
Carry Backup Flats
Sometimes, even the most comfortable heels for standing all day can become a bit much. To maintain your confidence, keep a pair of stylish flats in your bag. You can switch to them when your feet need a break, ensuring you're always ready to conquer your workday.
Pamper Your Feet
After a long day in heels, your feet deserve some TLC (Tender Loving Care). Soak them in a warm foot bath, massage them, and maybe even treat yourself to a pedicure. Happy feet are confident feet, after all.
Dress the Part
Finally, don't forget that confidence comes from within, but your outfit plays a significant role too. Choose work-appropriate attire that complements your heels. When you feel well put-together, your confidence will naturally shine through.
Wearing heels at work can be a delightful experience when you prioritize comfort and confidence. Following these tips and selecting the right pair of comfortable heels you'll be striding into the office with style, grace, and the self-assuredness that only comes from knowing you've got this.
So, step into those heels and conquer your professional world!
Tranparent Block Heel Mules – Beige
Transparent Pvc Sandals Ladies High Heel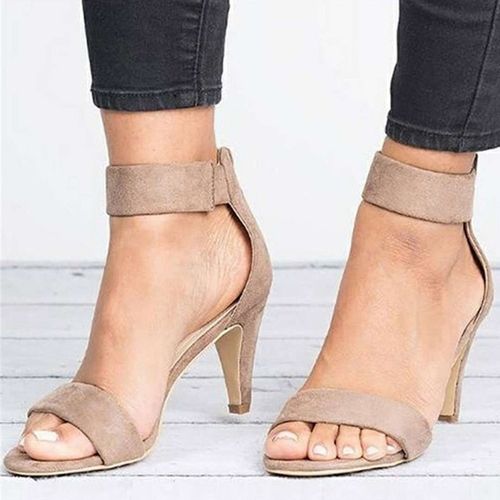 Pumps Thin High Heel Open Toe Zipper Suede
Womens Casual Shoes High Heels
Platform High Heel Sandals
Peep Toe Heeled Sandals Pumps Back Zipper Faux Leather
Pointed Toe Pumps High Heel Stilettos
Ladies Party Wedding Pump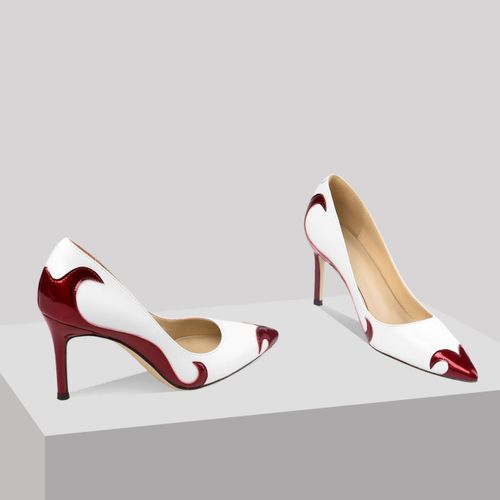 Summer New Pointed Toe Stiletto Sandals High Heel
High – heeled Martin Boots, British Style
Rivet Crude High Heel Platform Ankle Boots
Women Stretch Faux Slim Over The Knee High Boots
Juebong Ankle Booties Retro Chunky High Heel
Thick High Heeled Closed Toe Sandals
High Heels Platform Mules Shoes
Summer Strappy Thick Heel High Heel 
Mary Jane Block Heel Platform Pumps
Pumps Autumn Thick Heel Shoes
Caramel Faux Leather Pointed Stilleto Heel Court Shoes
Ankle Strappy Sandals Buckle Stiletto Heel
Pumps with T-Buckle High Heels
Oceansee Black Lace Toe Mesh Heel Boots
Rhinestone Bow Satin Heel Black
Ankle Strap Chunky Platform Heels
Spring And Winter High Heel Ankle Boots
Lace Flowers Open Toes Ankle Boots Lace Mesh Insert
Leather Square High Heels
Ankle Strap Chunky Platform Heels