Women are strong. This is no simple statement. Count on them to walk through a blazing fire scathed but reformed or burned to ashes only to reemerge as phoenixes. The strength of the woman even in the face of tragedy transcends real life and has been represented widely in books and other items of literature. Today, we will look at some of these women, as well as their stories of how in their diverse lives, whether cracked or whole, their perseverance remains. Now, the definition of a "strong woman" may vary from person to person, but there is a common point where certain ideas of what it means intersect and we will see these meanings reflect in their lives. There is courage and bravery in them. We will see an independent person who also knows when to lean on others and who embraces her vulnerability, not as a weakness, but as a part of the self. And then there are those who challenge the status quo, who dare to question, chase the answers they don't have, and who stand up for themselves. They're not afraid to use their voices and their intelligent and creative minds. Woman or not, you will more than likely find these characters worth celebrating even and may even have a "I wish I could meet this person in real life" moment. Let's get right into it!
1. Liesel, The Book Thief (Markus Zusak)
"I have hated the words and I have loved them, and I hope I have made them right."
Liesel Meminger is only a teenager, but she faces tribulations that children should not have to even think about in normal times. But those World War II times were anything but normal. Her father is killed for being a communist, she loses both her brother and her mother, witnesses her friends and family either destroyed by bombs or sent to a concentration camp, stares death in the face more than once, and suffers more even as she emerges as the lone survivor on her street in the end. Besides her family and friends through whom she experiences healing and maturity, it is in the books that she steals, being unable to afford them, that she finds the most consolation, strength, beauty, and assurance. It is this same love for books and writing that saves her life in the end but her tenacity keeps her going after losing everyone and everything before she has even had her sixteenth birthday.
2. Katniss Everdeen, The Hunger Games (Suzanne Collins)
"At some point, you have to stop running and turn around and face whoever wants you dead. The hard thing is finding the courage to do it."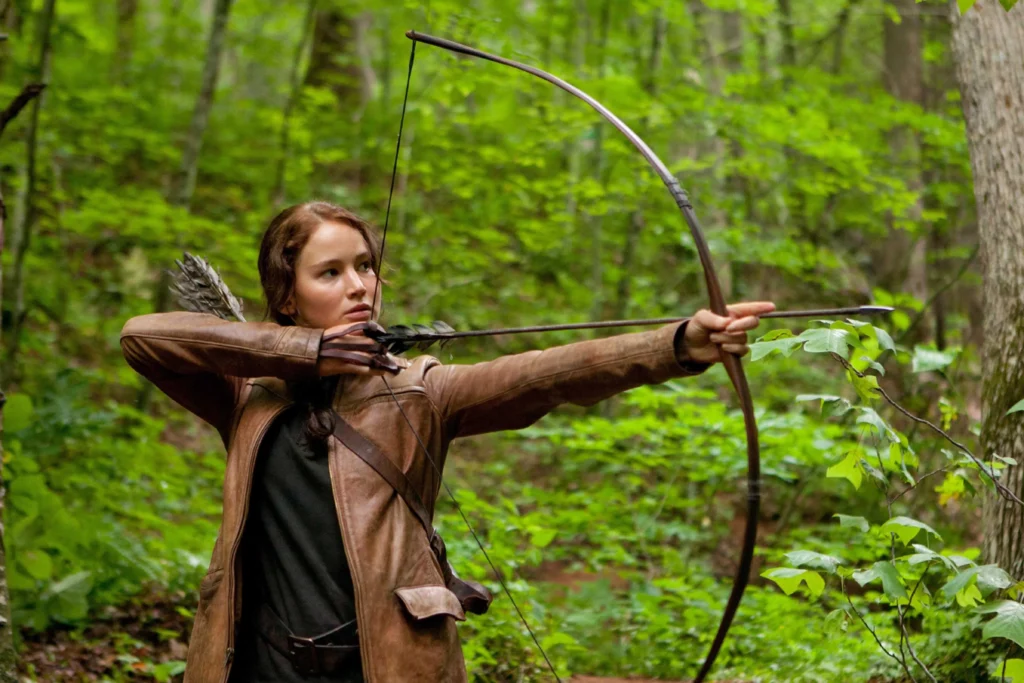 Katniss Everdeen is a name that is impossible to forget and not just because almost everybody knows of The Hunger Games trilogy or because of her signature bow and arrow and her bullseye aim. It has more to do with her transformation from an impoverished and a defenseless girl in an equally impoverished and forgettable district into a force to be reckoned with, the face of a resistance, and the government's worst nightmare. Katniss inspires not just people from her smaller district but all others to stand up to the oppressive political institution that torments and controls them, feasting on the fruits of their labor while they go hungry, grow poorer, and die hopelessly. Dismantling the outrageous Hunger Games which she survives twice is just the beginning for Katniss, and even though she doesn't particularly enjoy a happily ever after, she sets in motion a chain of events that gives hope to her people.
3. Aunty Ifeoma, Purple Hibiscus (Chimamanda Ngozie Adichie)
"I am not paid to be loyal. When I speak the truth, it becomes disloyalty…When do we speak out, eh?"
Purple Hibiscus will double-pierce your heart as you follow the life of Kambili and her struggles with her overbearing Catholic father, compliant mother, her brother, friends, and other family members, one of whom is Aunty Ifeoma. Although she is not the protagonist of the story, Aunty Ifeoma is a woman who holds her own and becomes a beacon of light for others as well. Readers get to know the intricacies of her life including the loss of her husband and how she tries to single-handedly raise her children. She is a living antithesis to certain phenomena and characters in the story. Unlike Kambili's mother and other women in her society, Aunty Ifeoma is not afraid to speak for herself. She also challenges not just her brother's stringent and often abusive "values", but also the Nigerian government even if it means being caught in its crosshairs. She becomes a voice of reason for Kambili and her brother and encourages their mother to reclaim her voice and power as well.
4. Tracy Whitney, If Tomorrow Comes (Sidney Sheldon)
"My ancestors survived famine and plagues and floods, and I'm going to survive this."
We're talking about an incredibly smart, beautiful, and formidable character who sets out on a journey of retribution and self-redemption after being framed by a mafia gang, losing her job, facing the neglect of the man whom she had believed loved and had faith in her, and serving time in prison. All these sharpen her physically and especially mentally, and when she gets out, she sets her plans for vengeance in motion, which includes pulling off perfectly orchestrated heists and cons. Tracy is not the vulnerable damsel in distress who needs others to come to her rescue. No. She takes charge of her life, leveraging her ingenuity, sharp wits, and well, the innate greed of others to carry out her plans.
5. Kya, Where the Crawdads Sing (Delia Owens)
"Most of what she knew, she'd learned from the wild. Nature had nurtured, tutored, and protected her when no one else would."
The locals call Kya "The Marsh Girl" and are treated as an outcast just because she is different. As a child, she is abandoned by her mother, and subsequently by all her older siblings due to their father's abusive predispositions and alcoholic fists. She learns how to stay out of her father's way and teaches herself to survive on her own. The only people who ever show her kindness in her town can be counted on one hand, but this doesn't deter her from growing into a brilliant, self-taught, and self-sufficient young lady whose knowledge and artistic representations of the marshlands are as intimate as they are encyclopedic. When life begins to take on some semblance of normalcy, Kya is hit yet again which heartbreak, neglect, a controlling and abusive man in her life, a murder charge, and unsurprisingly, the disdain of her townsfolk. Kya, since childhood, has faced some of the vilest circumstances but eventually decides enough is enough. She takes control of her life and will not allow anyone else to cause her further pain.
6. Eleanor Oliphant, Eleanor Oliphant is Completely Fine (Gail Honeyman)
"Tiny slivers of life – they all added up and helped you to feel that you too could be a fragment, a little piece of humanity who usefully filled a space, however minuscule."
That's right! Miss Oliphant is doing absolutely fine. Here's another thing about Eleanor: she struggles to comprehend and fully assimilate to social dynamics, skills and mannerisms that are considered "normal". She is isolated and seen as different and inscrutable, even strange and this is largely influenced by the kind of childhood she had, but she is unapologetically herself. After a traumatizing experience in her younger years that leaves her scarred – literally – Eleanor battles with her demons, the biggest of whom is her mother, and in the end, she does not only survive, but she also triumphs, without losing herself or her originality. Eleanor also traverses a process of learning, unlearning, and relearning that makes her embrace other aspects of life that she did not deem herself deserving of.
7. Evelyn Hugo, The Seven Husbands of Evelyn Hugo (Taylor Jenkins Reid)
"Don't ignore half of me so you can fit me into a box. Don't do that." 
I take controversy, add smarts, ambition, passion, killer instincts, cunning, you get the idea. If you add a bunch of related words, you'll be at a loss for Evelyn Hugo. She is the most striking person with the most impressive face and features, as well as the brains to go with them. Her knowledge of who she is and what she wants allows Evelyn Hugo to do whatever she can to get it. She is both mean and sweet, and to be clear, she is also manipulative and opportunistic. All these things are true to her and she will not let them deter her. Evelyn creates a kind of love-hate relationship after getting to know her. Say and feel what you want about her, but you can't help admiring her ability to get things done. Throughout her numerous and infamous marriages, Evelyn portrays a very different side to herself and carves arguably the best path for herself to Hollywood. She has many faults (don't we all), and she eventually tries to correct some of her wrongs, even as she strives to not lose that one thing that is true about herself.
8. Cara, How Not to Drown in a Glass of Water (Angie Cruz)
"I did it because I wanted to change my life. That's what we have to do. We step in the shit on purpose so we're forced to buy new shoes. You know what I'm saying?"
Cara arrives in the United States not only as an immigrant from the Dominican Republic but also as a wife and mother running away from her husband who wants to kill her. We follow Cara's life through her struggles with settling and surviving in the midst of the 2009 global economic recession. Cara is full of stories mostly regarding her difficult relationships with her son, sister, and parents. Despite being jobless, on the brink of losing her home and trying to keep her head above water every day, her love and generous heart still know no bounds. You'd also acknowledge that she may have made some mistakes and had her own shortfalls, but she truly has the biggest heart to give, and she also manages to set some things right in the end. 
9. Ifemulu, Americanah (Chimamanda Ngozie Adichie)
"If you don't understand, ask questions. If you're uncomfortable about asking questions, say you are uncomfortable about asking questions and then ask them anyway…then listen some more." 
Ifemulu hits hard when she speaks. She does not mince words or resize questions into softballs to make swallowing them easier. After her move to America, even the initial uncertainties and confusion that ensue do not make her any less strong-minded. As well, Ifemulu learns for the first time and firsthand how prevalent racism is in America and uses her voice to start a blog that handles some of the hardest conversations we have. Even though she passionately and unreservedly writes about these topics, she sometimes feels phony because as an outsider her understanding isn't quite natural. Ifemulu again struggles with a contrast between American and Nigerian cultures that sometimes makes her feel alienated trying to fit in. But before returning home, she rediscovers her voice, becomes more comfortable in her skin as a non-American Black living in the New World, and takes pride in her kinky hair, deep accent, and unique personality.
10. Dinah, The Red Tent (Anita Diamant)
"If you sit on the bank of a river, you see only a small part of its surface. And yet, the water before your eyes is proof of unknowable depths."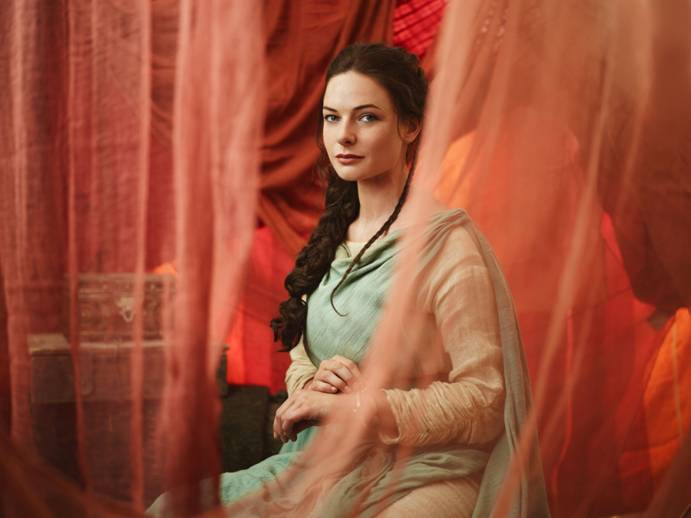 Dinah may not be famously depicted in the Bible as much as her 12 brothers, but in The Red Tent, she proves to be as strong a woman as the Elizabeth Bennets of the world. Her story – although her story is not quite the same as Biblical accounts – follows her journey from her upbringing in a typical male-dominated world where she is expected to serve the greatest need of her father and many brothers. In her lifetime, Dinah sees a lot and goes through tragic circumstances that would make anyone lose their head. Through her eyes, the story she tells touches on several of these things: pain, death, life, desolation, patriarchalism, issues of womanhood, survival, loss, family difficulties, and disappointments. She represents, however, the unwavering strength and will of women, who continue to survive even the worst of misfortunes.
11. Mariam and Laila, A Thousand Splendid Suns (Khaleed Hosseini)
"How quietly we endure all that falls upon us."
Mariam and Laila's stories are intertwined as they are heart-wrenching. These are two Afghan women, similar in their pain and suffering and also different in some ways including their wide age difference. The two women live under an oppressive regime which is no stranger to discrimination and have deprived most of their rights and freedoms as women. Most times it is hard to simply be a normal human being with dignity in their society and behind the closed doors of their home. War, abuse, death, and oppression close in on them from every corner and yet, they refuse to allow themselves to be broken. Even as their stories intersect amid great losses and heartache, Laila and Mariam endure and overcome. They sacrifice for each other and together, push back against the discrimination that threatens their present lives and the better future that at least one of them can have.
12. Amy, Gone Girl (Gillian Flynn)
"It's a very difficult era in which to be a person, just a real, actual person, instead of a collection of personality traits selected from an endless Automat of characters."
"Amazing Amy" Dunne is a lot of things. She is a sweet, loving, beautiful, and model wife and daughter. But she is also analytical, calculating, intuitive, highly disciplined, persuasive, brilliant, merciless, and a little psycho. Or maybe more than a little. On top of that, she is very, very patient. We're talking about an artistic mastermind who is as unpredictable as it gets and who brings all these attributes to bear when her husband upends her rich, stable urban life and, as the icing, cheats on her with his younger college student. Amy feels disrespected, belittled, and suffocated and she will have none of that. Months are spent devising her perfect revenge that ripples into a series of dramatic incidents and chaos. Her character dismantles certain stereotypes about women and her perspective also raises some questions and criticisms of patriarchal ideas and male chauvinism. Truly, Amy is a controversial character who, nonetheless, takes a place among the strong and daring women you would ever read about, even if she is quite insane. 
13. Scout Finch, To Kill a Mockingbird (Harper Lee)
"Atticus told me to delete the adjectives and I'd have the facts."
Scout is an adventurous young lady with an intelligent and curious mind and will not conform to gender norms and stereotypes that make her feel restrained. Although we meet her in the story at the tender age of 6, she already knows what it is to be her own person and does what makes her free, whether it is shoving dresses down the closet, opting instead to wear overalls, or climbing trees with her brother Jem and friend Dill, scraping her knees. Her demeanour is unconventional and this sometimes lands her into trouble because girls her age, especially during her time, were simply not "supposed" to behave in certain ways. However, that will not intimidate or force her into something that she is not.
Bonus: A Real-Life Personality
14. Malala, I Am Malala (Malala Yousafzai)
"My mother always told me, "hide your face people are looking at you." I would reply, "it does not matter, I am also looking at them."
Malala is the only nonfictional person we have today. She is a living, breathing quintessential example of what it means to remain resolute and never give up in fighting for what is right. She is strong and powerful in her words and actions. Getting shot in the face at age 15 for speaking against the Taliban while fighting for the rights of her peers still didn't silence her and she remains firm in her passion for equal rights and fair treatment for girls. Today, she is a Nobel Prize laureate for her sustained fight to make education easily accessible to young girls. Malala continues to be a household name and an inspiration to many across the globe and each year on July 12, the world commemorates International Malala Day to salute this courageous woman.
Let's End It Here for Now…
There you have it – a highlight of some bold and daring women in literature who break boundaries and push limits. You may not exactly love all of them (take Amy or Evelyn for example), but that doesn't change the fact that these women are phenomenal even in the controversial nature of their characters. Popular names such as Circe, the March sisters, Lisbeth Salander, and Jane Eyre, among others weren't featured on the list today, but surely, this isn't the last time you'll see an appreciation of strong female book characters. In the meantime, you can check out the stories of the 14 women we have shared if you haven't read the books yet. Enjoy and be inspired!